KINDAIKENCHIKU-SHA CO.,LTD.has been publishing KINDAI KENCHIKU monthly since 1946. As a major architectural magazine in Japan, we have a deep understanding of tradition and are aware of its social problems. Within our creative pages, we have been introducing well-designed buildings, excellent theses and commentaries, timely feature articles, and information about new products and construction methods. Kindaikenchiku Co.,Ltd. will remain a publishing company looking at the past, present and future not only for those in the architecture industry, but also for people who are simply interested in architecture.

Company Name
KINDAIKENCHIKU-SHA CO.,LTD.
Publisher
Mitsuo Nagayama
Address
Higashi Kanda IN Bldg. 6F 2-10-17, Higashi Kanda, Chiyoda-ku, Tokyo
101-0031, Japan
TEL 03-3864-7741 FAX 03-3864-1722
Established
July 1946
Paid-in Capital
15,000,000 yen
Business Contents
Publishing technical journal on architecture(monthly issue "KINDAI KENCHIKU"・Extra Edition "DIPLOMA PROJECT"),
Creativing advertisements, Making catalogs and pamphlets,
Making offprints, Taking architectural photographs
Major Sales Partners
TOHAN Co.,Ltd.・Nippon Shuppan Hanbai, Inc.・
Kurita Shuppan Hanbai Co.,Ltd.・CHUOSHA Co.,Ltd・
OSAKAYA Co.,Ltd.・Seikodo Syoseki Co.,Ltd.・
Taiyosya Co.,Ltd.・Kyowa Shuppan Hanbai Co.,Ltd.
Main Banks
Sumitomo Mitsui Banking Corp. The Bank of Tokyo-Mitsubishi UFJ, Ltd. Mizuho Bank, Ltd. Resona Bank, Ltd. Japan Post Bank Co.,Ltd.  The Asahi Shinkin Bank Co.,Ltd.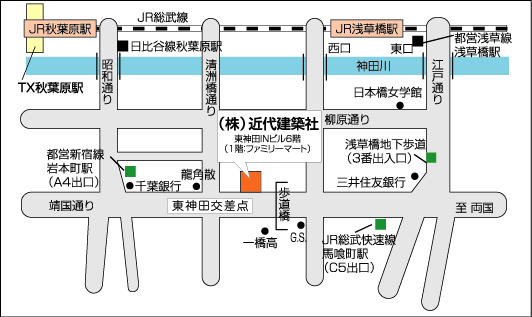 ■アクセス方法
JR総武線「秋葉原」駅(昭和通り口)より 徒歩10分
東京メトロ日比谷線「秋葉原」駅(4番出口)より 徒歩 8分
つくばエクスプレス「秋葉原」駅より 徒歩15分
JR総武線「浅草橋」駅(西口)より 徒歩 8分
都営浅草線「浅草橋」駅(地下歩道3番出口)より 徒歩10分
JR総武横須賀線「馬喰町」駅(C5出口)より 徒歩 8分
都営新宿線「岩本町」駅(A4出口)より 徒歩 8分